Here are my final tests for who is ahead in the swing states.  The situation looks rather bleak for Donald Trump.
As in 2012, I am using a "chi-squared" test* to determine whether each candidate has led in so many polls in each state that it is statistically unlikely that person is not actually ahead there.  I've used all state polls archived at Huffington Post Pollster since June 1st and conducted a separate test using only polls conducted after the release of the "Access Hollywood" tape on October 7th where Trump claims to have committed sexual assault.  In this more recent set of polls, Arizona moves from Trump's column to a toss-up.
In three other states, Iowa, Nevada, and Ohio, the race appears statistically tied.  Neither candidate has led in a sufficient number of polls to determine whether one of them is truly in the lead.  Hillary Clinton has a significant lead in the remaining eight states, with a total of 116 Electoral Votes.  Combined with the other solidly Democratic states, she should win at least 317 Electoral Votes on Tuesday, and as many as 347 were she to take all three of Nevada, Iowa, and Ohio.  More likely, given the data above, she will lose Iowa and Ohio and end up with 323 Electoral Votes adding Nevada to her column.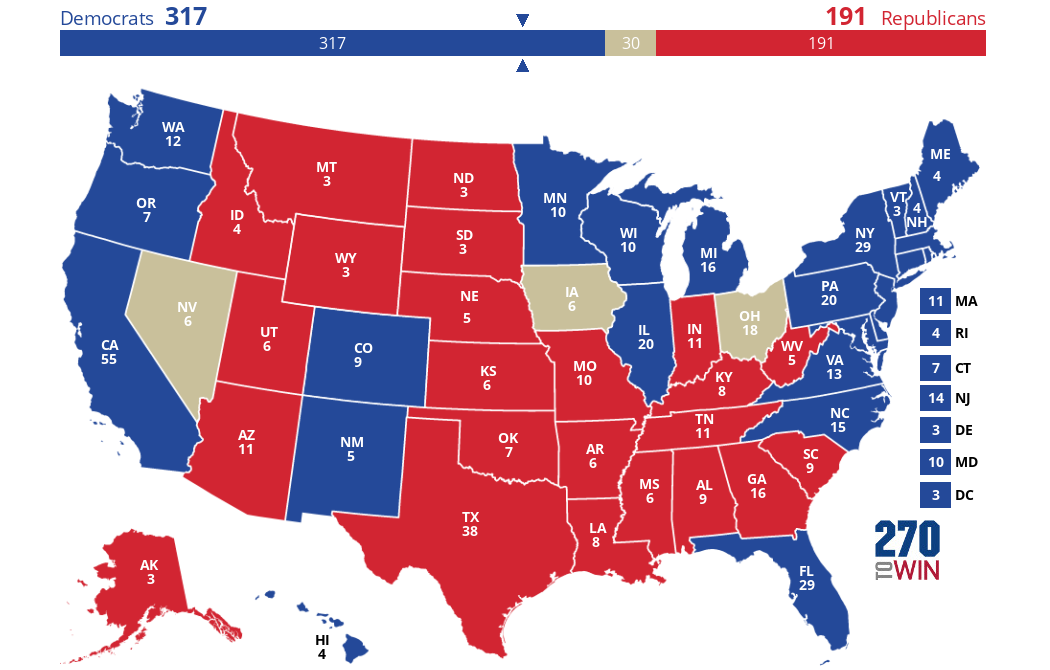 __________
*Values of chi-squared greater than 3.84 are "significant at the 0.05 level" (with one "degree of freedom"), meaning there is a 95 percent probability that Clinton is ahead.  Values greater than 6.64 are significant at the 99 percent level.  In all eight states where Clinton has led in the polls since June 1st, her chances of actually being ahead in those states are very much higher than 99 percent. (Return)